Rival Slots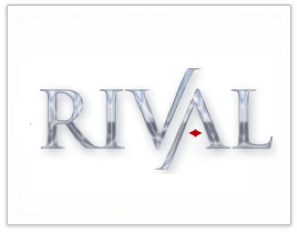 Rival Gaming offer a standalone type of gaming platform and as such if you ever fancy playing their range of slot machines online you are going to find that the casino sites that have them on offer will usually only be offering you their range of slot games, and not a mix of other designers slot games too.
However, having been in business for a number of years now one thing that you are going to find about their range of slot games is that there are quite a number of them available all of which offer something different by way of bonus games and bonus features.
At the time of writing they offer 205 different casino games, and have been on the go for 10 years
Lookout for their range of what are known as iSlots, those are Interactive Slot games on which as you are playing them you will find some unique bonus game some of which may be skill based and you will also find each of their iSlots tells some type of unfolding story and you progress through the different playing modes.
One thing we have found however about playing Rival powered slot game online or on a mobile device is that you will either love playing them or hate playing them! There seems to be no middle ground, however please be the judge of whether you will enjoy playing them yourself by reading on a and seeing what each of their many different slot games has to offer you via the following review.
Types of Rival Slot Games
Below are the four different categories of slot games that you are always going to have access to when playing at any casino site using the Rival supplied gaming platforms, and alongside each of those categories you will find an overview of what makes each type of slot game different. Many of the slots can be played right here on the site for free, so click on them and you can read the reviews and give them a spin.
Three Reel Slots – Should it be 3 reel slot game you are looking play then we think you will enjoy those on offer at Rival powered casino sites, you will be able to play them for stake levels that suit your bankroll and the classic slots will offer you the ability of playing more than one coin per spin to access some much higher valued winning payouts, so do checkout those slot games if you enjoy playing them!
Five Reel Video Slots – Five reel video slot games are of course what many slot players will enjoy playing, and there are going to be dozens of them available when you do decide to play Rival slot games online. The bonus games are usually sets of free spins however you may actually be surprised at just how often those bonus games trigger!
Interactive Slots – The iSlot games that Rival have designed are going to be probably the most exciting and most entertaining video slot you can play at any site offering their suite of games! However, do ensure that when playing them you have a large enough bankroll or set the stakes low enough to allow you to progress through the many different playing modes attached to those slot games for the maximum Entertainment value!
Progressive Slots – You will not find a massive suite of progressive slot games are available at sites using Rival designed slot games, and those that are available tend to be simple to play three reel progressive slots. The jackpots on offer do not tend to grow to the mega amounts offered by other game designers' either.
Rival Slot Reviews
Rival Gaming Platforms
There are three gaming platforms that Rival supply to any casino site that is licensed to utilize their games, and each of those gaming platforms are listed below, so read on as one of them is bound to be suitable for you and the way you enjoy playing slot games.
Instant Play – As long as the computer or laptop you are using has a web browser then you are going to have no problems what so ever being able to play Rival designed slot games on that device, for they have a web browser compatible gaming platform that all of their casino sites online has on offer to players.
Downloadable Platform – Many players opt to download the entire range of games and the gaming platform when playing at a Rival powered online casino site as by doing so they will then have access to the entire suite of their slot games and other casino games which you can play for free or for real money.
New Mobile Slots – Rival have finally got around to launching their own unique mobile gaming platforms and as such you will now also have the added advantage of being able to access and play their slot game on any modern day smart phone or tablet device.
Good and Bad Points about Rival Slots
The following section of this review of Rival designed slot games is a warts and all section in which you will find the good points about their slot games and the bad points, so do yourself a favour and please do read on and then make your own judgement call as to whether you are going to have a ball playing their slot games!
Basic Sound Effects – The sound effects are not going to blow you away or be worth turning up your computers volume settings to hear when playing Rival designed slot machines online, for sadly the sound effects on their range of slot games are rather basic.
Standard Animations – Apart from the iSlot games you will find that the animations and graphics on offer on Rival slot games are nowhere near as advanced or as high definition as you will find being offered by other slot game designers slots, however those basic playing slot games do seem to appeal to many players, and as we said above you will the love or hate playing their slots!
Low to Medium Stakes – You will not find very high staking options on Rival slot games for the coin value settings and the ay each slot has been designed will give you a low to medium valued range of staking options.