Wonky Wabbits Slot Review
Wonky Wabbits Overview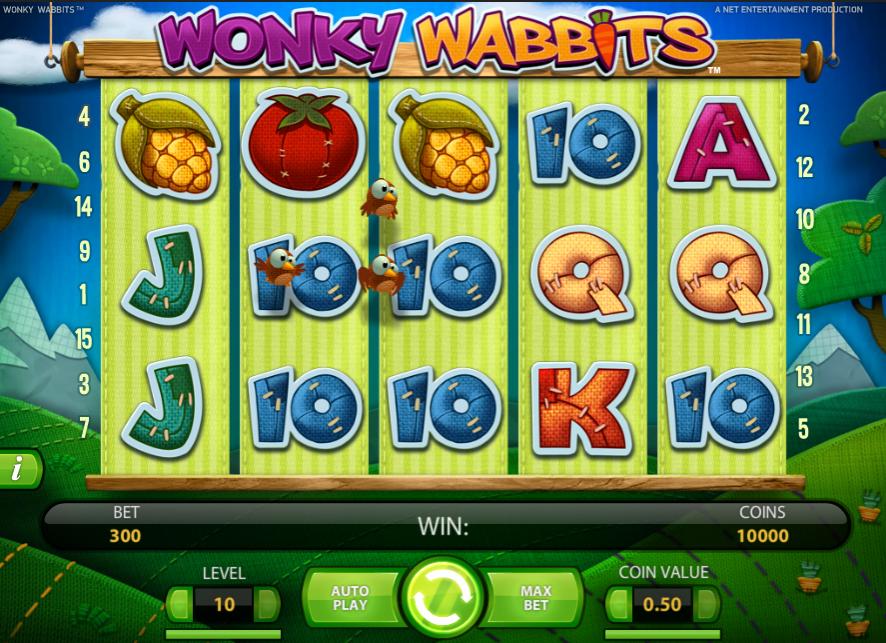 Rating:
Wonky Wabbits Features
Nature/Grassy Theme
Expensive to Play
'Both Ways' Pay Structure
Wonky Wabbits Basics
Game Type : Video Slot
Software : NetEnt
Paylines : 15 (fixed)
Jackpot : 390,000 Coins
Progressive : No
Wonky Wabbits Free Play (Desktop Only)
Detailed Wonky Wabbits Review
One type of slot game that is not available in large numbers from NetEnt is slots which offer a Both Ways type of playing structure. Those are slot games on which when playing off any one spin the winning combinations listed on their pay tables can be formed from left to right and also right to left on the screen.
However, if you decide to play the Wonky Wabbits slot from NetEnt then you will indeed find that it does offer a Both Ways playing structure. However, this slot is a fixed payline slot game, and there are 15 paylines spread over its reels.
Each spin you do play off is going to cost you at least 30 coins or an increment of 30 coins for you have to pay for the Both Ways playing structure, however that does of course mean that when playing it you can form multiple winning combinations.
There is a bonus game which can be triggered and that bonus game is mentioned below. Just make sure you do give this slot a little bit of play time as it has a set of unusual wild symbols we think you will very quickly warm to!
Bonus Games, Bonus Features and Special Reel Symbols
Due to the very unique playing structure and format in play on the Wonky Wabbits slot machine you have the chance of winning what could turn out to be a mega sized payout from a single spin!
In fact, if you do have a very good run of luck when playing it out could win up to 390,000 coins from one single game you have just played off on this NetEnt designed video slot game!
The Wilds symbol is known as a Wild Duplication bonus feature triggering reel symbol, and as such whenever it does spin into view it will then add another wild symbol to the reels, it will do it in such a way that the additional wild symbols will always form the highest possible paying winning combination when added to the screen.
Keep in mind that as this slot game pays both ways, then when you spin in a five of a kind winning combination you will be awarded that payout twice, once for the right to left pattern and once for the left to right winning combination too, so big payouts are always a very real possibility when you play this slot game online!
Our Opinion of the Wonky Wabbits Slot
There are quite a number of video slots designed and supplied by other companies that will give you a Both Ways type of playing structure, however many of those other slots do not force you to have to pay for the privilege of being able to form winning combinations from right to left and left to right on the screen!
That is sadly something you are going to be forced to have to do when playing this slot, and with no control at all over you being able to alter or adjust the number of pay lines you do activate a 30 coin spin is required each time you do click or tap onto its spin button to send the reels spinning!
Make sure that you do have a good look at the pay table of this slot, in fact give it some play time via the free play option for we just know when you see the Wild symbol starting to duplicate itself on other reel positions when it has been spun in you will find this one of the more exciting slot games to play, even without it offering any main type of bonus game!