Triple Diamond Slot Review
Triple Diamond Overview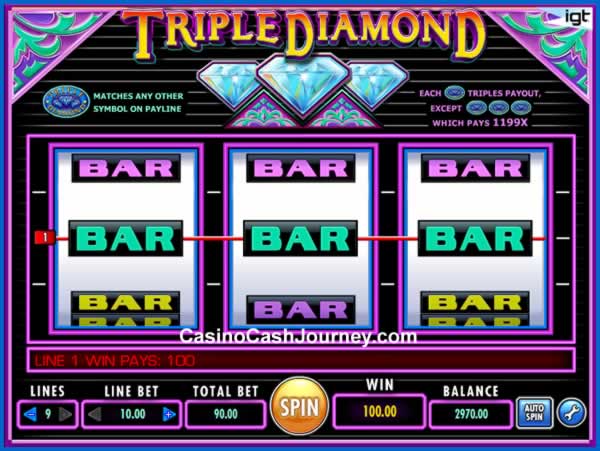 Rating:
Triple Diamond Features
Gemstones Theme
3 Stepper Reels
95.06% RTP
Triple Diamond Basics
Game Type : Video Slot
Software : IGT
Paylines : 9
Jackpot : 1199 Coins
Progressive : No
Triple Diamond Free Play (Desktop Only)
Detailed Triple Diamond Review
The main difference between this slot game and most others available from IGT at various different online casino sites is that spread over its 3 reels are 9 optional pay lines. So unlike many other 3 reel slots you do get the choice and ability of putting into live play a large number of paylines per spin.
The coin values can be adjusted too so it will not only be suitable for players who like to high roll but low stake players will enjoy playing it too, in fact if you simply want to test it out to see it playing and paying for no risk a free play version to the slot is also available online.
There are however some special reel symbols that can be spun in and when they do and land at the side of other matching reel symbols the value of those winning payouts can be massively increased read on to find out more.
Bonus Games, Bonus Features and Special Reel Symbols
The Triple Diamond reel symbols will award a jackpot payout worth 1199 coins if and when you get all three of them on any of the nine optional paylines you have opted to put into live play, if they all land on an payline not put into play you will not win that jackpot payout!
Those symbols not only are the jackpot payout but as they are also Wild Multiplier reels symbols they can and will help you form additional winning combinations from time to time. When one of them lines up alongside other matching reel symbols and helps you form a winning combination on any of your activated paylines the value of that winning combination will be tripled instantly.
The value of any winning combinations formed with two other Triple Diamond reel symbols will be boosted by x9 in value. Be aware though that the jackpot paying winning combination will not be increased by those wild symbols however!
There are no additional bonus games or bonus features on offer on this slot so if you are desperately looking around for a very basic but nevertheless un to play an fast playing IGT slot then this is certain a slot game to consider playing online!
Our Opinion of the Triple Diamond Slot
Any three reel slot you end up playing on which there are no bonus games and no bonus features will be fast playing slots, however to always ensure that you will get a very fair chance of winning when playing off more spins per session as you do with this slot the RTP has been set high by IGT and that RTP is 95.06%!
This slot can be highly volatile at times so keep that in mind when playing it as it can swallow up even the largest of bankroll if you end up having a long losing sequence of base game spins.
Also if you are a fan of bonus game awarding slots then you will very quickly get bored of playing IGT's Triple Diamond slot, so only consider playing it online if you are happy playing a much more basic type of slot but one that does have a fair sized jackpot on offer.
In fact, thanks to the value of the jackpot payout being just 1199 coins you will find that over the long term you will stand a much greater chance of spinning in the jackpot paying winning combination when compared to other similar types of slots that have much higher valued jackpots on offer, but as mentioned this slot is not suitable for players looking for all action and all singing and all dancing slots!