Steam Tower Slot Review
Steam Tower Overview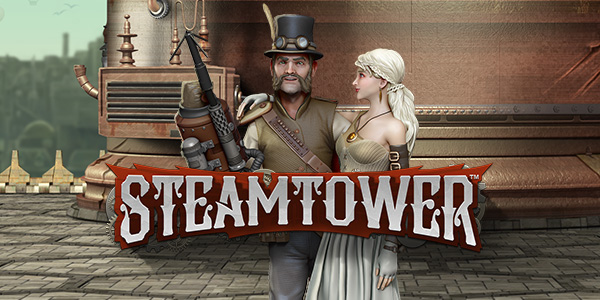 Rating:
Steam Tower Features
Mythical Theme
High RTP
97% RTP
Steam Tower Basics
Game Type : Video Slot
Software : NetEnt
Paylines : 15
Jackpot : 2000 Coins
Progressive : No
Steam Tower Free Play (Desktop Only)
Detailed Steam Tower Review
You will find there are some slot games available from NetEnt that are famed for offering players the chance of winning some large amount of cash! If you ever do fancy playing one of those types of slots then you will not go far wrong selecting the Steam Tower slot game to play.
This slot has a very unique set of free spins that you can trigger and that bonus game will be revealed to you in the following section of this review.
However, you will need to know what staking options are available to you if you decide to play this slot and you can play it with coin values set as low as 0.01 and you can also play it with 15 lines activated per spin and the slot will also allow you to play up to 10 coins per line on each spin played off!
Bonus Games, Bonus Features and Special Reel Symbols
What you will be hoping happens on any base game spin you play off is that the wild symbol spins in on any reel in such a way that every position on the reel is covered in wild symbols, for when that happen you are then awarded with a set of 10 free spins.
As your awarded free spins are playing off you will need to see additional wild symbols spinning in, for when they do so two things will then happen, you will firstly be awarded with additional free spins when a wild symbol spins in and you will then progress through to the next floor of the Steam Tower.
The higher you rise up the Steam Tower the higher the multitier in play on your free spins bonus game will become, and as long as you do keep spinning in additional wild symbols then you will be awarded with those extra free spins which may then allow you to spin in even more of those symbols.
You will be aiming to make it right to the top floor of the Steam Tower as by doing you will then be playing with the higher multiplier in play for your remaining free spins, and some mega amounts of cash could be awarded to you whenever the free spins bonus game has been triggered!
Our Opinion of the Steam Tower Slot
Anything can happen during the free spins bonus game when you have triggered it playing the Steam Tower slot, but one thing you will want to see spinning in are those wild symbols, for that will then see you working your way up the Steam Tower!
The aim of that bonus game, as with any, is for you to achieve some of the very best payouts possible, and as such it is as you progress up that tower you have the best chances of winning big.
However, having played this slot quite a lot we have notices that some of the free spins bonus games you will trigger will see those wild symbols do not spinning in as often as you would have hoped, and as such you may not get very high up the tower, and could win only a small amount of cash via the free spins bonus game!
But, to be fair that is much like what you will experience when playing most video slot games offering sets of free spins via their respective bonus game, but there is always the chance you could win big when playing this slot which does make it an exciting slot to play and one we would recommend to any avid slot player out there!