Icy Wonders Slot Review
Icy Wonders Overview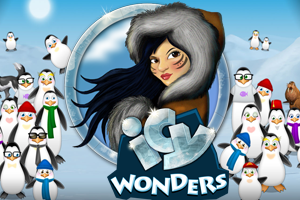 Rating:
Icy Wonders Features
Winter Theme
Progressive Jackpot
93.20% RTP
Icy Wonders Basics
Game Type : Video Slot
Software : NetEnt
Paylines : 30
Jackpot : 7500 Coins
Progressive : Yes
Icy Wonders Free Play (Desktop Only)
Detailed Icy Wonders Review
There are a range of slot games that you can play online that are from a company called NetEnt that are part of their Wonders series of slots, and one that you may be interested in playing is the Icy Wonders slot.
This is a progressive slot game that has been designed as a 30 optional payline slot game and when playing it on your chosen coin value settings you are going to be able to play 4 coins per line on every single spin you play off, so it is a fully configurable slot.
The two progressive jackpots can be won on any spin, however if you can afford to play the Icy Wonder slot game for higher stake amounts then you do get something of an increased chance of winning one of the two jackpots. Plus, bonus games can also be trigged when playing the Icy Wonders slot of which a description and overview of both of them can be found below.
Bonus Games, Bonus Features and Special Reel Symbols
There are a specials et of Penguin themed bonus symbols that you could spin in when playing this slot game and when three of those Penguin symbols line up from left to right on any activated payline you will then get to play off a pick to win bonus game.
When triggered you will see a lot of Penguin displayed on the bonus game screen and depending on which one you pick off that screen cash payouts will then be awarded to you. The more you wager on the base game the more you stand to win from that picking game.
Free spins are another type of bonus game that you could end up triggering then playing the Icy Wonders slot, those free spins are triggered in the usual way by you spinning in three or more of the scatter symbols.
10, 20 and 30 free spins are what you could trigger via the bonus free spin feature game depending on whether you spin in three, four or five scatter symbols. You can re-trigger the free spins as they are playing off and all winning payouts you spin in on any of your free spins will be doubled in value.
The two progressive jackpots displayed at the top of the screen are won via special overlaid Star symbols on the reel symbols, get four of them spinning in from left to right on any activate payline and you will win the Wonder Jackpot, however get all five of those overlaid Star symbols on an activated payline and the Mega Wonder Jackpot will be all yours!
Our Opinion of the Icy Wonders Slot
Our best advice to anyone who is looking for a slot offering progressive jackpots would be to play some others rather than this slot! For the one major thing that lets this slot game down is it published and verified long term expected payout percentage!
That RTP is a very low 93.50% and in our opinion that is way too low when you consider many other slot games have payout percentages in the 96% to 99% ranges.
If you cannot resist getting stuck into playing this slot game though then the very best time to play it will be when the progressive jackpots are higher in value that the usual average amounts they are hit by, as when those jackpots are higher than their average hit amounts they are naturally overdue and may just be about to hit. Playing this slot when the jackpots are low in value is a very risky thing to do however, so keep that in mind!