Flowers Slot Review
Flowers Overview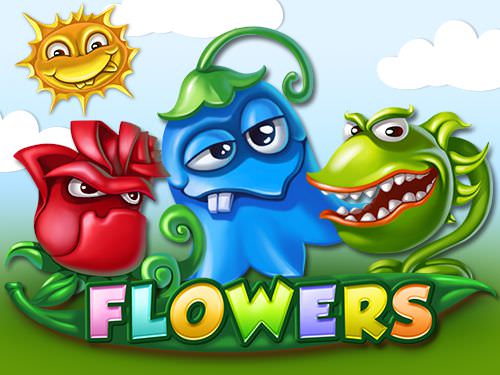 Rating:
Flowers Features
Horticulture Theme
Fixed Pay-Lines
96.30% RTP
Flowers Basics
Game Type : Video Slot
Software : NetEnt
Paylines : 30
Jackpot : 2000 Coins
Progressive : No
Flowers Free Play (Desktop Only)
Detailed Flowers Review
The Flowers slot game was one of the very first slot game designed by NetEnt that came with a special set of Split Symbol in play on all of its five reels. This slot is also a slot on which a 30 optional payline playing structure can be found.
The way in which those Split Symbol work is fairly straight forward and easy to understand for whenever they spin in those symbols count as two reel symbols and opposed to one reel symbol, which in turns means that you could form a winning combination which contains up to 10 matching reel symbols.
Therefore when you take a look at the pay table of the Flowers slot game you will notice many more winning payouts can be achieved when compared to most other slot games for the winning payouts go right up to a ten of a kind winning combination!
There is of course a bonus game that you can trigger when playing the Flower slot from NetEnt and below we will give you an insight into how that bonus game is triggered and what you will be playing off once you have triggered it yourself!
Bonus Games, Bonus Features and Special Reel Symbols
This original Flowers slot game does have a sister slot that being the Christmas Edition Flowers slot, however both slot games have the game type of bonus games and the same set of payouts on offer with the only difference being the sister slot has some Christmas themed animations and graphics on the reels!
There are wild symbols that can be spun in and whenever they do they could help you form one or more winning combinations, be warned however the wild symbols cannot and will not ever stand in for the scatter symbols or the double reel symbols.
It will take at least four scatter symbols to make an appearance before you will then get to play off the main bonus game on this slot which is a set of free spins. Those scatter symbols are on the reels as single and double symbols and the more of them that have been spun in the more free spins you will then get to play off.
As the free spins are being played off by you if you get another four or more of them spinning in from one single free spin then additional free spins are credited to you. The winning payouts that you will be hopefully see spinning in during the free spin bonus game are going to be tripled in value, so with some luck in playing that bonus free spins feature game could be a very rewarding and profitable one!
Our Opinion of the Flowers Slot
The Split reel symbols can boost the value of your winning payouts when you play the Flowers slot, however due to the fact that when you spin in a small number of matching single reel symbols this slot is going to payout lower amounts! But everything is equal on this slot, as you should get a fair mix of lower paying winning spins and the occasional high paying ones too spinning in!
The payout percentage of this slot is 96.30% and that may be the only reason why you decide to play it however when you do want a slot that comes with an unusual playing structure then this is just as good a slot to play as any other.
However, we would not call it an all singing all dancing bonus game packed slot, for the bonus game can take ages to trigger, well it did do when we played this slot online!