Dracula Slot Review
Dracula Overview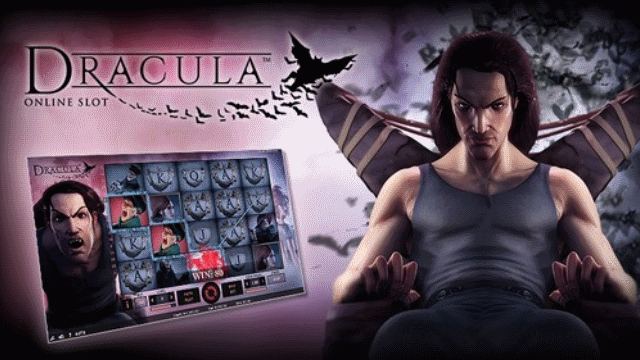 Rating:
Dracula Features
Horror Theme
Binaural Sound Effects
96.58% RTP
Dracula Basics
Game Type : Video Slot
Software : NetEnt
Paylines : 40
Jackpot : 200 Coins
Progressive : No
Dracula Free Play (Desktop Only)
Detailed Dracula Review
The Dracula slot from NetEnt has been designed in such a way that it boasts something known as 3D Binaural Sound Effects and as such for the very best playing experience when playing this slot will be had if you wear headphones when playing it online!
However, you are not forced to have to wear headphones for it does additionally boast some high definition graphics and animations so you will always get a first class slot playing experience whenever you send its reels spinning!
You will have the chance of winning big on any spin you do decide to play off on the Dracula slot game for with some luck in playing you could win a bonus game winning payout worth a cool 80,000 coins. Just be aware that this slot offers a 40 fixed pay line playing structure so you do have to put all of those pay lines in play one each spin you do play off!
Bonus Games, Bonus Features and Special Reel Symbols
Playing off a base game spin can see you, at random being awarded with the Bat Feature when playing the Dracula slot game, and when that feature is awarded to you a cluster of Bats will fly onto the screen and where they land will be the reel positrons that are wild symbols for that base game spin.
The best aspect of that feature is that you can get a large number of Bats appearing and landing on the reel positions so you could win big when it has been triggered. During the free spins bonus game every free spin you play off will trigger the Bat Feature, so your chances of winning on each free spins are massively increased!
On reel two you can spin in the Dracula stacked symbols and also on reel four you can spin in a Stacked Lady symbol, if you get both of those symbols spinning in together on the same spin on each of their respective reels then a set of free spins will then be awarded to you.
As those free spins are playing off as mentioned above the Bat Feature is guaranteed to trigger on every single free spin you get to play off and also if the Stacked Wild symbol spins in on reel three on any one free spin played off during the free spins bonus game then you will be awarded with two additional free spins.
Our Opinion of the Dracula Slot
We love the amount of time and effort that NetEnt obviously put into the design of their Dracula slot, for they have made it one of the best playing slot games around thanks to those highly advanced sound effects that are sadly missing on many other slot games.
The Bat Feature is one we love about this slot too, for you will never know during a base game spin if that feature will be triggered or how many additional wild symbols will be added to the reels so it offers a very exciting type of bonus feature when it has been triggered as the Bats fly around the screen.
NetEnt didn't want to ruin the playability of the Dracula slot game having spent a small fortune acquiring the rights to design it, and as such one thing that they have given this slot game in addition to all of it bonus features and bonus games is a high payout percentage.
Any slot game that has a payout percentage that has been certified as being over 96% is a slot worth playing and as the Dracula slot games RTP is 96.58% then that does of course mean that it is certainly a slot worth playing!