Black Bull Slot Review
Black Bull Overview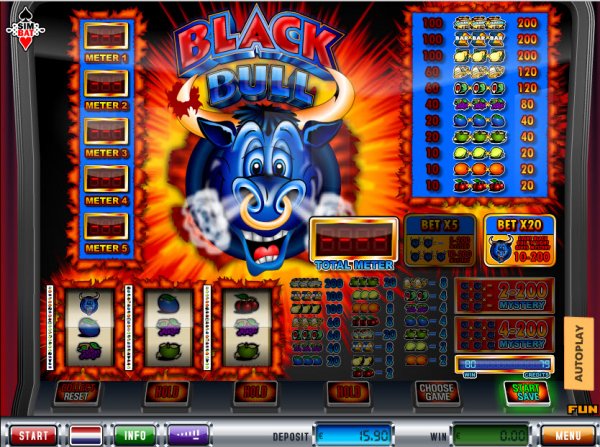 Rating:
Black Bull Features
Animal Theme
Three Stepper Reels
Mystery Scatter Pays RTP
Black Bull Basics
Game Type : Video Slot
Software : Simbat
Paylines : 1
Jackpot : 200 Coins
Progressive : No
Black Bull Free Play (Desktop Only)
Detailed Black Bull Review
There are a large range of online slot machines that you may never have seen or come across before, and those games have been designed by a company called Simbat. However, there are quite a number of casino sites that do have their range of games on offer so finding a casino offering them will not prove too difficult.
When you play the Black Bull slot you will be playing a single payline three reel slot, and as such one benefit of playing this fruit machine is that you will find it does offer some very low staking options.
The aim of the base game is fairly straight forward and that is for you to successfully spin in onto the single payline any of the winning combinations from left to right that you can see listed on the pay table.
By spinning in one of those winning combinations you will have the chance of collecting them and playing on, or you can risk the value of that winning payout by playing off the bonus game, the payouts that can be won on that bonus game can be seen on the top screen of the game.
Bonus Games, Bonus Features and Special Reel Symbols
There are a couple of base game features on offer on the Black Bull slot, the first is the nudge feature, as soon as the nudge lights of which you will see three of them located underneath each reel start top flash you will then be allocated with a set number of nudges.
You can use those nudges to move down one position at a time any of the reels, in the hope that by using those nudge optimally you will then line up a winning combination on the payline.
Also a hold feature will be offered to you very regularly and the hold buttons are also located underneath the reels and then they flash you can click on any of them and hold the corresponding reel or reels into position for the very next spin.
Also if you do get a winning combination forming then you can gamble those winnings by playing the additional bonus game, that will see you choosing how much to wager on the next spin and once selected the reels will then spin and the pay table at the top of the screen will then become activated.
Our Opinion of the Black Bull Slot
We think the Black Bull slot game is something of a run of the mill fruit machine, however one thing that we do like about it is that you will get to see located at the side of the reels the entire reel strip on symbols one each of the three reels.
Therefore when you have been awarded the nudge feature it is going to be much easier for you to make your mind up on which reels to nudge downwards, for by looking at the reel strip you will be able to see just what reel symbols are currently out of view, and whether they can be nudged in via your awarded nudges.
Being a low stake fruit machine you are always going to find your bankroll will go much further when playing the Black Bull slot, however keep in mind that out do know when the best time is to stop if you are gambling your base game spun in winning payout via the bonus game!
If you keep on gambling them you do run the risk of losing everything you have so far won! However with some practise you will soon get the hang for the way this fruit machine plays and pays too!