Big Money Game Slot Review
Big Money Game Overview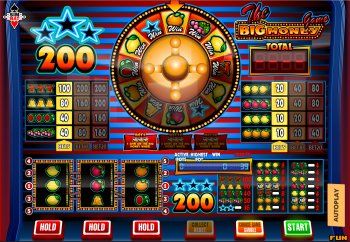 Rating:
Big Money Game Features
Fruit Theme
Wheel Spin Bonus Game
Multiple Pay-Lines RTP
Big Money Game Basics
Game Type : Video Slot
Software : Simbat
Paylines : 5
Jackpot : 200 Coins
Progressive : No
Big Money Game Free Play (Desktop Only)
Detailed Big Money Game Review
Having made up your mind you would like to try out a range of completely different slot games to play, then we would encourage you to take a look at the fruit machines that have been designed by Simbat.
By doing so you are going to find dozens of completely differently structured slots on which you do of course have the chance to win big! However, what makes playing Simbat slots appealing is that many of them are designed as five payline slots so they only require five coins to be wagered on the base game per spin.
A very good introduction to playing fruit machines compared to casino slots is the Big Money Game flot, for we think this slot is going to appeal to slot players who do like taking risks, but want the very real chance of being heavily rewarded for taking those risks!
With that in mind do read on, for an overview of how this fruit machine has been designed, and keep in mind it is a very fast loading no download required slot, so no time will be wasted when playing it waiting for the game to load and then launch!
Bonus Games, Bonus Features and Special Reel Symbols
On the base game of the Big Money slot you will be playing no more than five paylines per spin however this game does offer a Hold feature that is rarely if ever found on casino slots!
When the Hold buttons illuminate and start to flash you will be given the option of holding one to three of the reels into place for your next spin, and you may also be offered the hold feature if on a previous spin you spun in a winning combination!
As such if you have just spun in a winning combination then make sure you hold all of the reels so that you will be awarded with that winning payout again. As soon as you do form at least one winning combination on the base game you can then opt to play off the bonus game at the top of the screen.
By doing so you will be playing off a wheel spinning type of bonus game on which you can spin in the winning payouts listed at the top of the slot games screen, some of which are high valued winning payouts.
Our Opinion of the Big Money Game Slot
Playing fruit machines is going to see you getting a little more entertainment than you ever would when playing the more stand casino type slot games which are available in very large number online.
For these types of gaming machines do put you in control of just when you choose to play off the additional top screen bonus game which is something you do not get control of when playing casino slots.
However, never forget that you could lose as well as win when taking the top screen wheel spinning bonus game, however as this slot is both completely random and does boast a high payout percentage you should get a very fair mix of losing and winning outcomes when playing it online.
Also keep in mind that being a low stake slot you are never going to have to put together a very large bankroll to play it, which sadly is something that you often do have to do when playing five reel video slots! Give it a little bit of playing them when you do come across any online casino offering the Simbat range of slots for you may warm to this game quickly when you do so!