Andy Capp Slot Review
Andy Capp Overview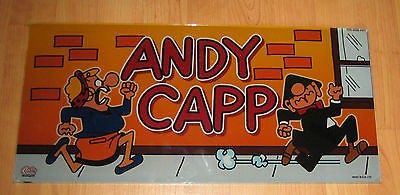 Rating:
Andy Capp Features
Comedy Theme
Optional gamble games
Single Pay-Line RTP
Andy Capp Basics
Game Type : Video Slot
Software : Simbat
Paylines : 1
Jackpot : 200 Coints
Progressive : No
Andy Capp Free Play (Desktop Only)
Detailed Andy Capp Review
The henpecked husband that is Andy Capp has been brought back to live on his own namesake slot game. The Andy Capp slot game is a fully themed and branded slot that has been designed by a company called Simbat who are best famed for their range of fruit machine styled slot games.
One thing to keep in mind is that this slot game is in fact a fruit machine as opposed to the more standard casino slot games and as such instead of you playing a five reel slot offering lots of optional pay lines, when you choose to play this slot game you will find that it only has three stepper type reels and there is just one single payline spread over those three reels two.
However, never be put off playing the Andy Capp slot for you do have plenty of different coin values that you can choose to put into play so it can be a low stake or high stake slot. Plus, with its own 200 coin base game jackpot and an additional and frequently triggered bonus game you could win big at any time when playing it!
Bonus Games, Bonus Features and Special Reel Symbols
When you have been lucky enough to spin in any value of winning combination via the base game on the pay line then you will be given the option of trying to double the value of that payout via the gamble game.
To take the gamble game you will first need to click onto either the Heads button or the Tails button, whichever one you pick you will be hoping that the coin when tossed will land either Heads up if you selected Heads or Tails up if you selected Tails if so then you will double the value of that award you won via the base game.
The main bonus game however on the Andy Capp slot game is a bonus board type of feature that quite a lot of fruit machines do have attached to them. What you need to do via the base game is to spin in the superimposed numbers on the reel symbols.
When you spin in a 6 or any combination of numbers that add up to six you will then get to play the bonus board game which will see you rolling a dice reel in the hope you make it to some of the higher valued winning payouts on the bonus board before Flo catches you, when she does the bonus game will end.
Our Opinion of the Andy Capp Slot
The only problem in regards to playing off the bonus games on any fruit machine such as the Andy Capp slot which does offer a bonus board type of bonus game is that you do run the very real risk of ending that bonus game with no winnings!
As such you should always use your skill and judgement to determine just how far you should try and make it around the bonus board until you finally collect the prize or additional bonus feature awarded to you as you were working your way around that bonus board.
If you get greedy and continue to spin the dice reel there will always be a much increased chance Flo will catch up with you as she works her way around the bonus board and may end up catching you sooner rather than later.
However when you have played the Andy Capp fruit machine for a fair amount of time you usually get a good idea of just when to collect what you have so far won via the bonus game!