Stash of the Titans Slot Review
Stash of the Titans Overview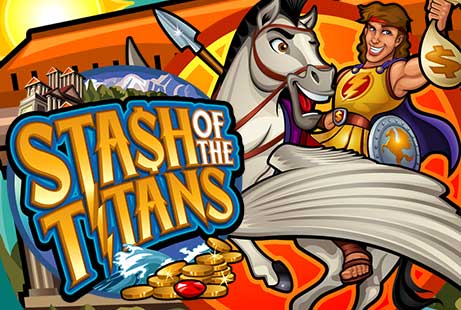 Rating:
Stash of the Titans Features
Mythical Theme
High Variance
95.07% RTP
Stash of the Titans Basics
Game Type : Video Slot
Software : Microgaming
Paylines : 20
Jackpot : 500 Coins
Progressive : No
Stash of the Titans Free Play (Desktop Only)
Detailed Stash of the Titans Review
There are plenty of slot machines that you will be able to access online that offer a free spins type of bonus feature, and those are in fact some of the most sought after slots you can access and play online.
If you do want to play one such slot but you are hunting for a slot on which whenever you do trigger the free spins feature game you will have some very high valued multipliers in play then feast your eyes over this review of the Stash of the Titans slot.
Due to this slot offering such high valued multiplier values via its bonus game it is a high variance slot, so keep that in mind when playing it and selecting a stake to play it for.
Being a Microgaming fully configurable slot you will however find that you can play it with one to twenty paylines in play and activated per spin and will also have a very large range of different staking options available to you too. Take a look at the remainder of this review for you may just enjoy what you read and may just fancy giving it a whirl!
Bonus Games, Bonus Features and Special Reel Symbols
The way in which the free spin bonus feature will play off when you are playing the Stash of the Titans slot game and trigger that bonus feature is slightly different to the way most other video slots play off their respective set of free spins!
To trigger the bonus game you are first required to have spun into view three or more of the Medusa scatter symbols and by doing so you will be awarded with a set of 15 free spins.
However, those free spins cannot be re-triggered as they are being played off and as such you can only trigger the bonus game once from any one single base game spin. But what you may just find appealing is that the multiplier values in play for that bonus game are a high x4 in value.
That bonus game will start to play off with the same pay lines and stake levels as you had in play on the triggering spin, and for reference the highest amount of cash that can be won once you have played off each of your fifteen awarded free spins is a huge 200,000 coins in total!
Our Opinion of the Stash of the Titans Slot
The one main thing that does let the Stash of the Titans slot game down is its payout percentage, when you first set eyes on this slot you will probably get the urge to play it, that is until of course you discover the Microgaming have chosen to design it with a long term payout percentage of just 95.07%!
Don't get us wrong, whilst that payout percentage is way higher than most land based and many other online slot games designed by other companies, it is not as high as some of their other slots, and as such you may find your slot playing sessions are not as production when playing this slot!
But at the heart of every Microgaming designed video slot and all their other slots too there is a random number generator and that ensures no matter when you play this slot or the stakes you play it for anything can happen when playing it.
That high free spins bonus game maximum payout is probably going to be the one deciding feature that does result in lots of players giving this slot a whirl, just try not to play it for too long, as eventually that relatively low RTP will eat away at your bankroll!