Pharaoh's Tomb Slot Review
Pharaoh's Tomb Overview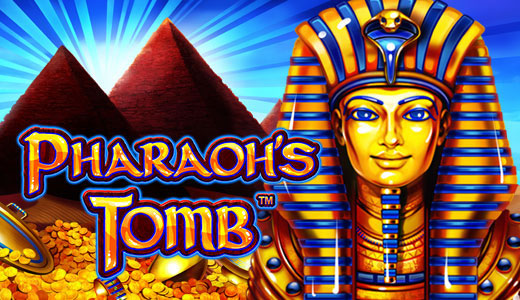 Rating:
Pharaoh's Tomb Features
Egyptian Theme
Multi-Satge Bonus Game
95.05% RTP
Pharaoh's Tomb Basics
Game Type : Video Slot
Software : Microgaming
Paylines : 20
Jackpot : 3000 Coins
Progressive : No
Pharaoh's Tomb Free Play (Desktop Only)
Detailed Pharaoh's Tomb Review
You have probably come across quite a lot of Egyptian themed slot games in your time, and if you like the mid to high variance nature of those slots then another one to add to your list is the Pharaoh's Tomb slot from Microgaming.
This is another of their 20 optional payline slots on which all manner of different staking options are available. Not only will you have the ability of swapping the coin value settings to suit your budget but you can also increase the number of coins you put into play on each payline too.
The base game jackpot is 3000 coins, that jackpot payout is of course based on you playing one single coin per line, and as such for every additional coin per line you wager you will increase the jackpot payout by another 3000 coins.
One interesting aspects of the Pharaoh's Tomb slot game which may appeal to you, is that unlike most other Egyptian themed slot games this one does not come with a free spins bonus game! Read on for whilst there is a bonus game that can be awarded to you it is a picking based one on which low to high valued winning payouts can be paid out to you as you play that bonus game off.
Bonus Games, Bonus Features and Special Reel Symbols
You will notice Scarab symbols spinning in from time to time when playing the Pharaoh's Tomb slot game, but you will need to see at the very least three of them spinning into view when playing off any one single base game spin before the bonus game is triggered.
That bonus game is a multi-stage picking game, but you will have to pick off the right locations for you to then progress through to the next stage and win the high valued bonus game winning payouts!
Three of those symbols spinning into view will see this slot loading up its bonus game screen, and displayed on that bonus game will be three sarcophagi and you are tasked with picking one of them in the hope you reveal a Key.
Failing to locate the Key symbol in your chosen sarcophagi will see you winning a cash payout valued at two times the stake your wagered on the bonus game triggering spin and the bonus game will then end. However, revealing a key will see you being awarded a much higher valued payout and you progressive though to the second stage.
Both the second stage and the final stage play in a similar way to the initial stage of the game, so by making it right through to the final stage will see you being awarded a large winning payout!
Our Opinion of the Pharaoh's Tomb Slot
You are always going to get different outcomes when you are playing a slot game with any type of pick and win bonus game, much more so if that pick and win bonus feature is a multi-stage one.
As such just keep in mind that you are not always going to get the outcomes you had hoped for when the bonus game triggs when playing this slot, no matter how long or how much it took you to trigger the feature!
However, having said that we do like the very unique design of the Pharaoh's Tomb slot game and thanks to it having a published and certified long term expected payout percentage of a very generous and reasonable 95.08% it is certainly a slot worth allocating some of your next online slot playing session to, so why not do that!