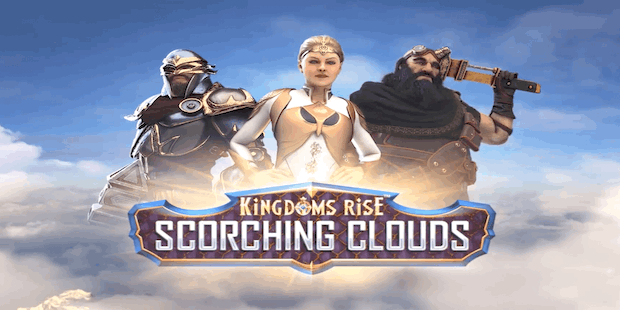 Back in the autumn of 2019, Playtech launched one of the most ambitious series of slot games ever seen online – Kingdoms Rise. The epic range of fantasy-inspired slot games looked more like World of Warcraft than standard slot machines, and you could certainly see the effort that Playtech put into Kingdoms Rise; This was supposed to be a big franchise to rival Playtech's Age of the Gods and DC Superheroes range.
First of all, an explainer for those who aren't familiar. Kingdoms Rise games are progressive jackpot slots with a fantasy theme. You can see the games for yourself at casino.com, a platform where you will be viewing unbelievable online slots offers in Canada and beyond. However, we will try our best to explain the games below.
First Wave
The first wave of Kingdoms Rise slots arrived last year, with three titles – Guardians of the Abyss, Forbidden Forest and Sands of Fury. When the games arrived, players were curious to see that they came accompanied by a map. The map allowed you to jump from, for example, the desert world of Sands of Fury to the enchanting woodlands of Forbidden Forests. The map also had room for other lands to be explored, and Playtech teased that the forthcoming Reign of Ice slot would be added soon. The map looks a bit like Westeros in Game of Thrones, and Playtech has arguably been trying to cash-in on the popularity of the television show.
What's Different?
The key difference between Kingdoms Rise and other slot games is that the titles are truly linked together; and, we don't just mean by the map. For instance, when you play any game, you earn coins which can be later used in the shop to buy special features from any game. To give you an example: If you were playing Sands of Fury, you will earn coins with each spin. After a while, you could visit the shop and buy the Night Owl Bonus Feature from Forbidden Forest. There are dozens of special features for sale in the shop – Playtech has done something truly groundbreaking here.
Second Wave
Reign of Ice soon landed at online casinos, but Playtech was not done yet. The following games have been added to the Kingdoms Rise range in 2020:
Legend of Elvenstone

Scorching Clouds

Shadow Queen

Chasm of Fear

Captains' Treasure
All the games have a fantasy theme, but they are slightly different in presentation. Indeed, an important move by Playtech was to ensure that each game in the series is unique. We don't just mean in terms of theme, but in gameplay, reel structure, special features, bonuses and so on. That's key to keeping the series fresh, and we know that many developers have been let down in the past by making games in a series too similar.
Is Kingdoms Rise a Hit?
The big question, then: Has Kingdoms Rise been a success for Playtech? It's difficult to answer. There have been some big changes in online casino trends recently, especially with players choosing the popular Megaways games.
Playtech has elected not to jump on the Megaways bandwagon and stuck to its ideals of providing premium slots with epic themes. As these are progressive jackpot games, there is clearly some big win potential, too.
Our view is that Kingdoms Rise games are perfect for those who want to be entertained with a sophisticated casino game. The games are very popular at Playtech casinos, and the developer seems to show no signs of slowing down with new releases and new ideas.
In short, Kingdoms Rise has been a success. The games might not be to everyone's tastes, but they are worth trying if you want to experience something different.