Golden Goose Genies Gems Slot Review
Genie's Gems Overview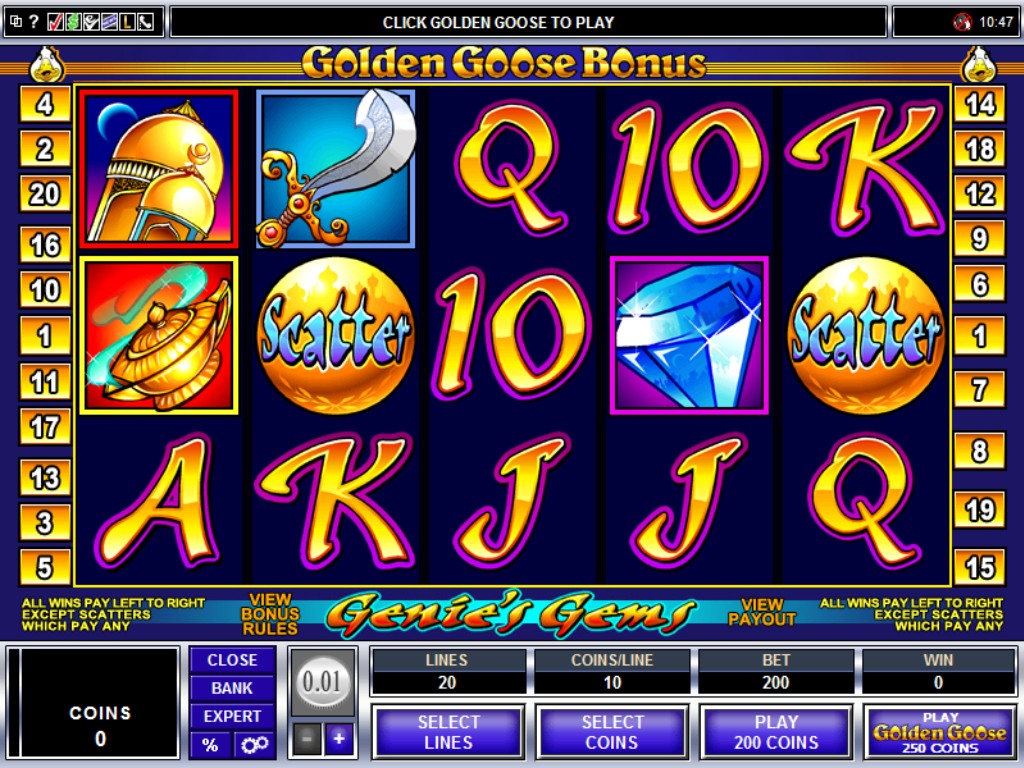 Rating:
Genie's Gems Features
Genie Theme
Up to 50 Free Spins
95.51% RTP
Genie's Gems Basics
Game Type : Video Slot
Software : Microgaming
Paylines : 20
Jackpot : 8,000 Coins
Progressive : No
Genie's Gems Free Play (Desktop Only)
Detailed Genie's Gems Review
Those of you out there with any experience of playing Microgaming slots will know there are quite a number of different slots, both old and new, that are part of a series of slots, and many of their new slot games are based around some of their older slot games too!
The Genies Gems Mark I slot is a no nonsense five pay lines slot which offers no bonus games or bonus features and is sadly a slot many players overlook. However, the Golden Goose Genies Gems slot is one of four more recently launched slots offering players a much more exciting type of playing structure.
In fact, when you choose to play the Golden Goose Genies Gems slot you can play it in a similar way to the original slot, that being with you having no ability to trigger any bonus games or features, but by placing an optional side bet wager you then do have four bonus games on offer! With an 8,000 coin base game jackpot this is also one of many slot games that can payout big from time to time too!
Bonus Games, Bonus Features and Special Reel Symbols
All four of the Golden Goose series of slot games of which this slot game is one can award you at random with one of four different bonus games. However, the way in which you have the chance of being randomly awarded with any of the bonus games listed below is by you having placed an optional side bet wager alongside your base game stake amount.
Failing to place that side bet wager will see you having no chance what so ever of triggering the bonus game. By placing that bonus bet at random at the end of any base game spin you then play off you can trigger one of four potentially high paying bonus games.
One of those bonus games awards a random cash payout, the second bonus game is a pick and win styled feature, the third bonus game will see you having to play a picking game by clicking on a playing card, the value of the card you select will then determine how many fee spins you play off.
The final bonus game will see you having to pick whether you want to win a cash prize or play off a set of up to 50 free spins instead.
Our Opinion of the Golden Goose Genies Gems Slot
Ask yourself whether you are going to get any advantages of placing the side bet wager when playing the Golden Goose Genies Gems slot, for one thing worth knowing is that the long term expected payout percentage of this slot does not increase in value when you place that side bet!
That payout percentage for reference is 95.51% so when playing this slot game you will get a fair number of winning spins. In fact, the only advantage of placing the side bet wager is that the bonus games will then be awarded to you from time to time.
But keep in mind you are paying for the privilege of triggering those bonus games but being randomly awarded there is no way of telling when or even if they will trigger when you sit down to play off any number of spins on this game!
It would probably be best for you to play this slot in the demo mode, free play version of the slot with the bonus bet activated and then not activated to see if it is a slot you enjoy playing, so consider doing just that at any of our approved casino sites!