Golden Goose Crazy Chameleons Slot Review
Crazy Chameleons Overview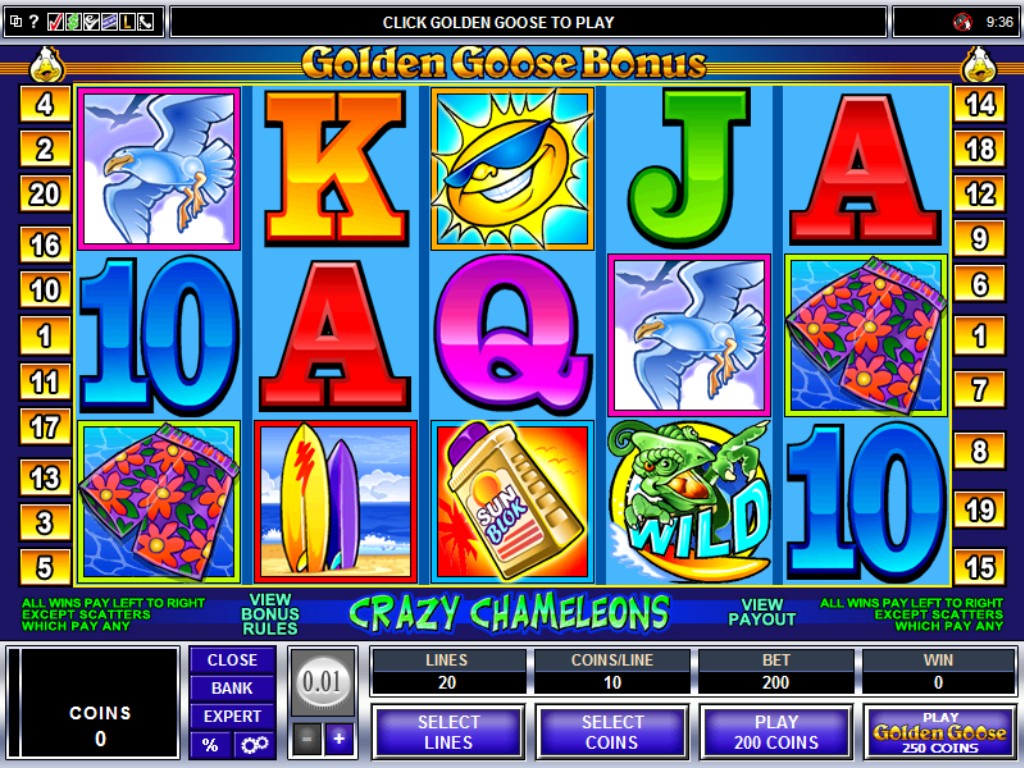 Rating:
Crazy Chameleons Features
Beach Theme
Four Bonus Games
94.96% RTP
Crazy Chameleons Basics
Game Type : Video Slot
Software : Microgaming
Paylines : 20
Jackpot : 5000 Coins
Progressive : No
Crazy Chameleons Free Play (Desktop Only)
Detailed Golden Goose Crazy Chameleons Review
Microgaming are a slot and casino game designer who are quite famed for bringing out slot games that make up part of a series of slots, and they are also very well known for revamping a range of some of their older slot games and giving them additional features and bonus games.
Take for example their Crazy Chameleons slot, the original slot offers a no nonsense type of playing format and structure and one on which you will never trigger any type of bonus games or bonus features, which is quite rare for a video slot game.
However, Microgaming did give four of their older more basic slots something of a makeover and launched them as part of their Golden Goose series of slots. Below you will find out just how this slot has been designed in regards to some additional bonus games that can be triggered when you are playing it that the original slot doesn't offer.
Keep in mind it is a 20 pay line slot and when playing it you do of course have plenty of different ways to stake each spin you play off, but there is an optional side bet wager you may also wish to activate too!
Bonus Games, Bonus Features and Special Reel Symbols
Whilst there are four different bonus games on offer to you when you are playing this slot game one thing you do need to be aware of is that the only way that you can trigger those bonus games is once you have placed the Golden Goose bonus bet on the base game spins you are playing off.
If you choose not to place that option side bet wager alongside each base game spin you do then play off you are never going to be awarded with the bonus game!
By placing that bonus bet at random on any spin you do play off with it activated you can be awarded with one of four different bonus games. The first bonus game is a random cash award which is awarded to you via a Goose walking across the screen and laying an egg!
You could also trigger a card picking game which will see you winning a set of free spins based on the value of the card you reveal. Another picking game gives you the option of picking a cash award or a random set of free spins and the third bonus game is a simple pick to win styled bonus game.
Our Opinion of the Golden Goose Crazy Chameleons Slot
Keep in mind that there are four very different video slot games from Microgaming that make up the series of Golden Goose slots, and the one main difference between them, all apart of course from the themes attached to each of them is the value of the jackpot payouts on offer.
Also keep in mind that you will also find the original Crazy Chameleons slot on offer at Microgaming software powered casino sites too and that original slot does not offer any type of bonus bet or any type of bonus futures, so if you enjoyed playing this slot do consider playing the original version of it too!
The payout percentage on the Golden Goose Crazy Chameleons slot is certified as being a high 94.96%, however as there is no noticeable increase or decrease in regards to the long term expected RTP of this slot game over the long term, when playing it with our without the bonus bet then you can play it anyway you like without having to make any compromises in regards to your winning chances!