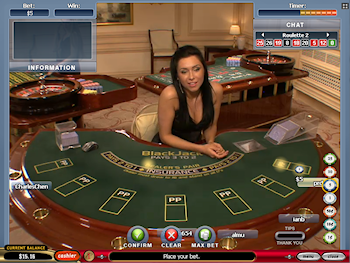 Live Blackjack
Being able to physically see the cards being shuffled and dealt out to you makes playing Blackjack much more enjoyable. Especially compared with playing at a software-driven, random number generator powered online casino.
There really is no getting away from this fact, and after a particularly bad session playing at an online casino you can often be left wondering is online Blackjack really as fair as it is made out to be.
By using a live video stream you can now play Blackjack in real time, playing against real dealers, so if you have been craving something different in terms of Blackjack play then how about giving this new way of playing a try?
However, not everyone can simply pop down to their local or not so local casino to get their Blackjack playing fix.  This is where Microgaming and Playtech have come into their own with the recent addition of their live Blackjack tables;  These are now available at a number of casinos which utilise their gaming software.
The Rules Of Live Blackjack
The multi-player live Blackjack game which is available at Microgaming powered casinos like 32Red are quite liberal in nature, and to begin with we should inform you that the shoe has 8 full decks of playing cards in it.
There are three different kinds of tables available in regards to minimum and maximum bets and these are 10.00 to 100.00, 30.00 to 300.00 and 50 to 500.00.
The value of these table stakes are whatever you have chosen the base currency to be at your chosen live casino, so you could be playing in Dollars, UK Pounds or Euros etc.
The Dealer is always going to stand their hand whenever it is worth a Soft 17 or above in value, a soft hand is one that contains an Ace, so should the dealers first two cards be an Ace and a Six for example then they are going to stand it.
Players may split their hand no more than once, and when the player has a nine, ten or eleven then they can double down, however doubling down after splitting a hand is not permitted. If you have split a pair of Aces then you can continue to hit this hand more than once.
One feature which may be of interest to you is the Bet Behind option, should you not find a spare seat at any of the live Blackjack tables then you can choose to place a wager on one of the players currently playing, however the minimum and maximum wagers you can place as a Bet Behind player are slightly lower than those players seated.
You will get offered an Insurance side bet when the dealer could possibly be holding a Blackjack hand (Ace with any Ten or Ten valued card) the stake required will be exactly half of your initial base game wager.
Should you lose your connection to the live casino when playing their Blackjack game then all is not lost as the game has a built in strategy and in the rare event of your connection being lost then the game will automatically play the rest of your game for you using this built in strategy.
Best Live Blackjack Casino 2023
Well Established
Mobile Casino
Live Dealer Games
Playtech Software
Live Blackjack Payouts
The payouts you are going to receive when you have won are fairly industry standard and these payouts are the same no matter whether you are a seated player or a Bet Behind player.
All winning Blackjack hands (Ace and any Ten valued card) will receive a payout worth 3 to 2 of your staked amount, all winning non Blackjack hands are paid out at Even Money, and all winning Insurance wagers will get paid out at odds (on their Insurance wager staked amount) of 2 to 1.
Live Blackjack Playing Options and Features
One thing you cannot help but notice is the size of the playing cards which are used in 32 Red's live Blackjack game, they are huge! Now the reason for this is quite simple and that is to allow players to be able to clearly see what cards they are being dealt even on poor quality video connections.
Also as the game relies on software in terms of allowing you to place wagers and get paid your winnings to your casino account the dealer will scan the card face down over a card reader placed into the Blackjack table before she reveal the cards, this is done purely for the software to be able to fully read the card and then display your betting options etc.
You have two different types of viewing options the first way of viewing is to have the live video stream super imposed over the card table and then have the players cards shown as video graphics on the table layout, or for a much more realistic view of the table select the second option which allow you to see the casino view which uses the actual playing cards dealt out on the Blackjack table.
Once the shoe has been exhausted, the pit boss will appear and replace it with a new one, this will then be shuffled by the dealer, a cut card is then placed into the deck and then this new shoe is put into play, the old shoe of cards will be removed to a storage table in the middle of the casino floor where the pit boss shuffles them and then puts them into storage on this table to be used later on in the day. This storage table is always in view on the live video stream. So the cards will always be shuffled twice before being put into play, once by the pit boss and then once by the dealer.
You will also be able to visit the cashier at any point in the game by selecting the Banking tab from the main menu, also should you wish to find out more about any particular dealer then they all have a profile page again which can be accessed by the main menu, and this will let you find out a little more about their dolly dealers!
Should at any point of the game you wish to consult the help files then once again simply click on the options tab and select the help centre where all game play rules along with additional information can be found.
Click here to return to the Casino Guide