Jeopardy Slot Review
Jeopardy Overview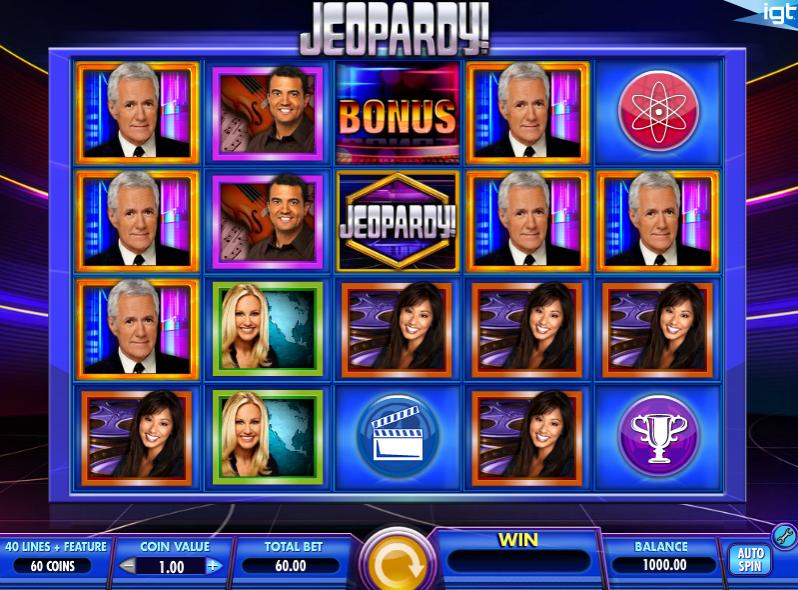 Rating:
Jeopardy Features
Jeopardy Gameshow Theme
Plenty of Free Spins
92.8-96.4% RTP
Jeopardy Basics
Game Type : Video Slot
Software : IGT
Paylines : 40 (fixed)
Jackpot : 2000 Coins
Progressive : No
Jeopardy Free Play (Desktop Only)
Detailed Jeopardy Review
Make sure that when you are looking for a casino site to sign up to and play slot games at you consider playing at a site offering you the very large and impressive range of IGT designed slot games.
Many of those slots are fully themed and branded slot games and one that we would like you to consider getting stuck into playing is the Jeopardy slot, which as the name of the slot does suggest is themed around the Jeopardy TV show that you may have seen on television in the past!
This slot is designed in a quite unusual way for it offers a fixed 40 pay lines plus on each spin you do play so you are required to place a 20 coin forced bonus side bet, that side bet however will then give you the chance of triggering a range of bonus feature and bonus games as described below.
Bonus Games, Bonus Features and Special Reel Symbols
One unusual symbol you will find on this slot is the Jeopardy Wild symbol, for when it has been spun on it can spread downwards and as such increase the number of wild symbols on the reel is has been spun in on. The only reel that does not have any wild symbols attached to it is reel number one.
The Male Presenter reel symbol is the jackpot awarding one on the Jeopardy slot and by getting a line of five of them on any activated payline a 2000 coin jackpot payout is then awarded to you instantly.
You will need to get at least two of the Bonus symbols on the middle reel to trigger the free spins bonus game, 2 of them awards up to 11 free spins on up to x6 multipliers, 3 of them can award up to 13 free spins on up to x11 multipliers and all four of them spinning in can awarded up to 19 free spins on up to x12 multipliers!
The way in which you will find out just how many free spins and the multipliers in play plus what additional symbols if any will be wild is by playing off a pick to win styled bonus game when those bonus symbols have been spun in on the middle reel to trigger the feature!
Our Opinion of the Jeopardy Slot
The payout percentage that the Jeopardy slot from IGT has been designed so that its 'return to player' percentage is quite low, working out at between 92.80% and 96.40%, however due to the bonus game and the high valued base game jackpot you could quite easily achieve a much higher RTP when playing it.
Pick and win bonus games attached to any slot game are always going to give you a range of different outcomes a you are playing them off and whilst you could be rewarded with some high number of free spins and high valued multipliers when you finally do play off the picking game attached to the Jeopardy slot the opposite could also happen.
So never be too dismayed if you experience a number of bonus game on which you may not get awarded with as many free spins or as high a multiplier as you may have hoped for, as the more you play this slot the more of a mix of bonus game you will get to play off.
However, always make sure that you allocate enough of a bankroll and stake each spin in such a way that you get as many base game spins form your bankroll as the more spins played off by you the ore chance so triggering the bonus game you will then have.